Meet the Kognicians - Olof Wahlström
Meet Olof Wahlström, a seasoned Kognician who has embarked on an incredible career journey, setting sail from the military, navigating the waters of machine learning, and anchoring his expertise as a Product Manager at Kognic. Olof's remarkable experiences have shaped his role and contributions to our organization.
"My military background instilled discipline and precision in me, values that continue to guide my career. It also emphasized the importance of adaptability, a trait I've found invaluable throughout my professional journey."
Olof's Background and Education
Olof's career voyage began in the military, where he cultivated his skills in precision, adaptability, and goal orientation. These qualities became the cornerstones of his professional journey, allowing him to navigate the complexities of the corporate world with ease.
"My educational background is the compass that helps me navigate the challenging seas of technology and business. It's a vital part of my toolkit in today's ever-evolving landscape."
Following his service, Olof ventured into the world of machine learning, leveraging his background in Physics and a deep dive into Complex Systems. This unique blend of technical expertise and a master's thesis focused on Speech Recognition using Deep Learning technologies laid the foundation for his successful transition into the corporate world.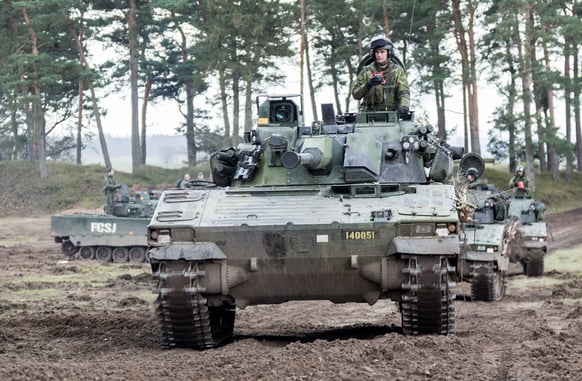 Charting His Course to Kognic
Olof's journey to Kognic began with a quest for a workplace that offered engaging challenges and the opportunity to make a significant impact. His curiosity led him to explore opportunities, and Kognic emerged as the perfect destination, aligning with his values of adaptability and goal orientation.
"Kognic offered an exciting prospect for someone like me who thrives on adaptability and is always driven to reach our goals."
What set Olof's journey to Kognic apart was the insider knowledge he gained from a close connection who worked at the company. This colleague consistently spoke highly of Kognic's rapid growth, as well as its nurturing and talented culture. Intrigued by these accounts, Olof began to consider whether Kognic might be the right match for him.
"Hearing about Kognic's incredible growth and the culture from someone I trusted made me seriously consider joining the team. I knew there was something special here."
Taking the plunge, Olof entered into the recruitment process at Kognic. His first glimpse into the company's culture and vision came during a call with Daniel Langkilde, CEO, and Co-Founder of Kognic. This conversation further fueled Olof's excitement. "Talking to Daniel during the culture and vision call was a defining moment. It became clear that Kognic had a clear sense of direction and a culture that fostered innovation and excellence."
The Recruitment Journey
The recruitment process at Kognic was a whirlwind of assessments and interviews, all designed to evaluate Olof's technical skills and his alignment with Kognic's culture and vision. The comprehensive approach ensured that candidates met not only the technical requirements but also the cultural fit.
"Kognic's recruitment process was unlike any other I'd experienced. It was thorough and comprehensive, focusing on candidates' technical proficiency as well as their alignment with the company's culture and goals."
In a remarkable turn of events, Olof's journey from exploring opportunities to joining Kognic took less than a month. His seamless transition highlighted Kognic's commitment to swiftly identifying and integrating top talent. "The speed at which I joined Kognic was impressive. It spoke volumes about the company's efficiency and dedication to bringing in the right people."
Life at Kognic: Olof's Daily Voyage
In his current role as a Product Manager for the Human Feedback Team, Olof is responsible for one of the product areas. His mission is to produce the data that customers need efficiently, with the highest level of automation possible. Olof excels in understanding current and future customer needs, enabling him to adapt and develop products accordingly.
"My role as a Product Manager at Kognic is dynamic and challenging. I oversee one of the product areas, collaborating to produce data efficiently and align with our customers' evolving needs." Olof also plays a significant role in setting up the company's product strategy, helping Kognic navigate its course towards its vision of providing cutting-edge solutions.
Kognic: A Harbor of Innovative Culture
When asked about Kognic's products and services, Olof expressed enthusiasm for the innovative solutions the company offers. He emphasized how Kognic's tools provide valuable insights and data, enabling customers to make informed decisions efficiently.
"Kognic's products are a game-changer. They provide customers with the data and insights they need to stay ahead in today's competitive landscape. It's incredibly rewarding to be part of this innovation journey."
He emphasized that Kognic is a dynamic company, continuously evolving. This dynamic nature provides employees like Olof with ample opportunities to tackle new challenges head-on and make a meaningful difference.
Olof's journey with Kognic also highlights the company's commitment to a flexible work culture. He resides in Borås, where the remote working policy at Kognic has allowed him to fulfil his dream of building a house with his fiancée and two dogs, Alaska and Triss, in the place he loves. Intriguingly, Triss isn't just a name; it's a reference to the gaming world – a testament to Olof's diverse interests.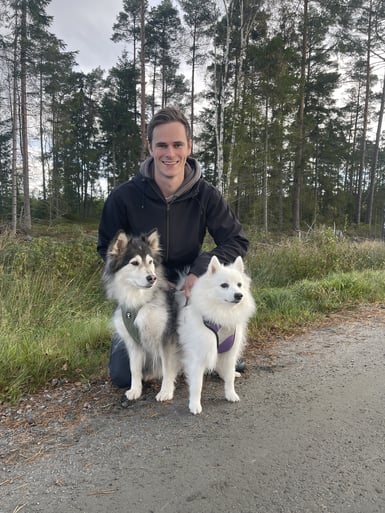 Kognic's culture deeply resonates with Olof. He appreciates the positive, collaborative, and helpful environment that encourages team members to thrive. He values the sense of being part of a team at the forefront of innovation, which differs from the experiences in some other industries.
"Kognic's culture is vibrant and supportive. It's a place where ambitious individuals find their niche and make a difference. Unlike some other industries, Kognic attracts those who are driven to excel."
Tips for Aspiring Kognicians
In conclusion, Olof Wahlström's career journey at Kognic is a testament to his adaptability, goal orientation, and unwavering commitment to excellence. From his military precision to his role as a Product Manager, Olof embodies the spirit of Kognic.
To those aspiring to join Kognic, Olof offers some sage advice. He encouraged potential candidates to exhibit adaptability, goal-orientation, and a drive to make a substantial impact. He highlighted Kognic's ever-changing landscape, an environment that welcomes those with the right skills and a passion for innovation.
"If you're looking for a workplace that offers engaging challenges and opportunities to make a significant impact, Kognic is the place for you. Show your drive and commitment, and you'll be seriously considered for a rewarding career here."
As we continue to spotlight remarkable individuals who drive Kognic's success, stay tuned for more insights into the heart and soul of our organization. Our Kognicians are the compass guiding us through uncharted waters, and their stories inspire us all.
Interested in joining Kognic and becoming a Kognician yourself? Keep an eye on our careers page for exciting opportunities to be part of our dynamic team! Can't find any job openings in your field? Feel free to submit. We look forward to welcoming you to our team! 🤗